Web Host Received "Caring Company Logo"
3/11/2017 12:00 AM
In Mar 2016, the Hong Kong Council of Social Service awarded the Caring Company Logo to the Web Host in recognition of the Company's commitment in Caring for the Community, Caring for the Employees and Caring for the Environment over the past years. .
On behalf of the Web Host, Ms. Alvis Sio, Marketing Executive (right-hand-side) received the certificate and took photo with the sponsored organization, Hans Andersen Club (HAC). The HAC is an NGO dedicated to serving the grass-root and under-privileged families and their children to adapt to the society. Apart from donation and sponsorship, colleagues of the Web Host have also participated in the volunteer services.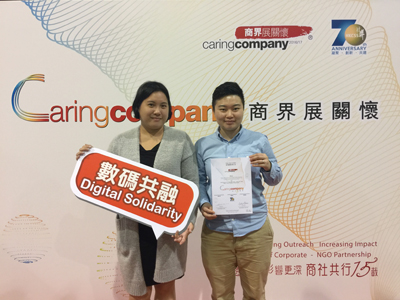 Please "LIKE" our facebook and stay tune with us.