Set IMAP account with Web Host email system for mobile devices
6/1/2013 12:00 AM
As the proliferation of 4G network and smartphones, more people are used to check emails on their different mobile devices. To cope with the market need, Web Host email system supports IMAP that fits for mobile users, enabling access to email account anytime anywhere.
Particularly, IMAP allows you to access your email messages from anywhere, via as many different devices as you want. Unlike POP, IMAP only downloads a message when you click on it. In other words, you do not have to wait for all of your new messages to download from the server before you can read them. Meanwhile, it synchronizes all emails that are on your computer, mobile or any devices you use with the emails that are on our email servers. As a result, IMAP is very fast and efficient.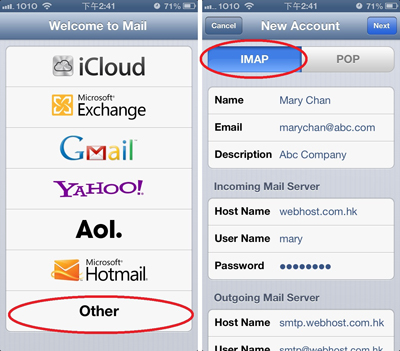 Web Host has always been prone to provide comprehensive value-added email services for our clients. If you encounter any email delivery issue and in need of any cost-effective solutions, please call us at (852) 3575 1888.